At Cusa, we're about more than just great tasting and convenient brews. We're on a mission to reinvent coffee and tea by bringing the purest, most sustainable and most potent product possible to everyone. And now you can invest in our mission.
A community round means you get to own a stake in our business - and share in our success. It's different from a Kickstarter in that instead of getting early access to products, you will own shares of Cusa.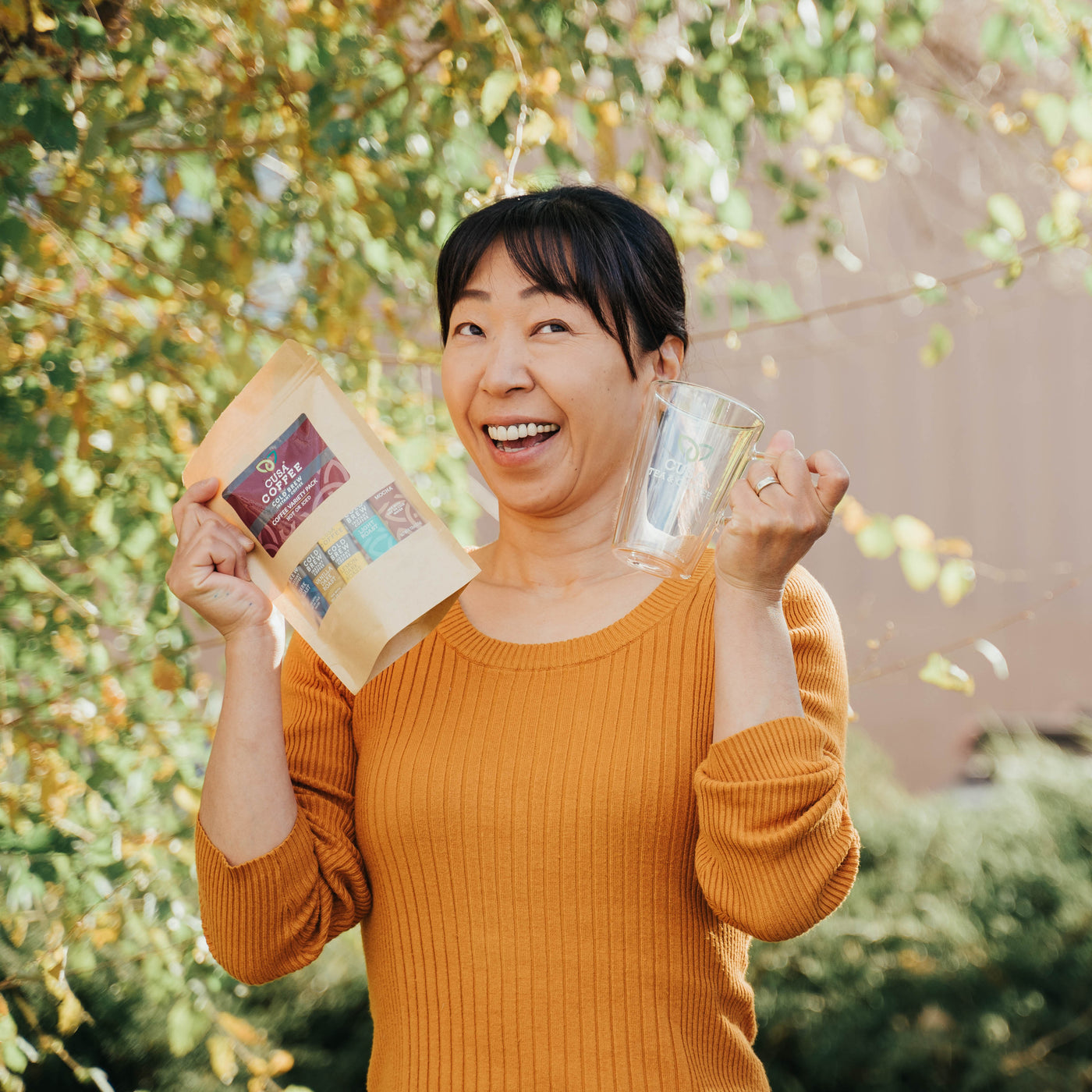 I WANT TO INVEST!
HOW DOES IT WORK?
Sign up on Wefunder: You can join the round via Wefunder, a crowdfunding platform. Visit our Wefunder page and set up a profile.
Commit to a check size you're comfortable with: You can commit to invest as little as $250 USD. 
Invest: Once the Wefunder campaign closes, you'll have a chance to confirm your interest and invest with one click.
WEFUNDER 101
A community round democratizes investing. It's a way for everyone - not just institutional investors - to become stakeholders in companies they love via the Regulation Crowdfunding (RegCF) law. To participate, all you have to do is:
Sign up for a Wefunder account if you haven't already by clicking the "Sign Up" link on the top right hand corner of the Cusa page. 
Choose an amount you want to invest up to your legal maximum, from $250. 
Complete your investment, and you'll own a piece of Cusa! 
Everyone who invests via Wefunder gets grouped into one collective investor. This collective amount then goes to Cusa. 
Wefunder is prohibited by law from touching your money. When you invest, your funds are transferred to an escrow account, in custody of Boston Private Bank (note that Silicon Valley Bank acquired Boston Private Bank so some information may also have their name on it). If the fundraise succeeds, your money will be released to Cusa. Otherwise, it will be refunded to you.
For payments made by bank ACH, wires, or checks, Wefunder charges investors a transaction fee of 2%, with a minimum of $8 and a max of $100. For credit cards, Apple Pay, or Google Pay, Wefunder charges a 3.5% fee, with a minimum of $8 and no maximum.
You can get your first investment fee free by completing the welcome sequence when creating your account (www.wefunder.com/welcome) and using your ACH bank account (US banks only) or a wire. Please note, this only applies to first investments. Fees are one time and are not recurring.
To change your password, go to wefunder.com/settings. Find Password and choose Reset to create a new password.
Everything is handled electronically. You sign a contract when you apply to invest. The founder will sign the contract after the fundraise closes and finalizes the raise. Once the founder countersigns, you'll be to find the contract in your portfolio.
No. Everyone can invest from as little as $250 up to $2,200. All you have to do is sign up and invest!
You may be able to invest more depending on your net income and net worth. You can view how much you can invest by adding your net worth and net income under "Investor Limits" here : https://wefunder.com/settings 
Regardless of any exit event, our brand will always stay true to its roots and heritage (and of course to our customers!) - just as many brands who have been acquired by large companies have done (think Ben & Jerry's or Newman's Own). This community round is first and foremost an opportunity to get our community even more involved with Cusa by offering a chance to own a stake in a brand they love and to be part of its history.
NEW TO INVESTING
Investing in Cusa not only means that you will own a piece of our company (and can grow with us), you can also benefit from investor perks. The more you invest, the more attractive the perks get! See our Wefunder page for details. 
A convertible note is an unsecured loan that converts to stock at some point in the future. The convertible note specifies the price at which the conversion will occur, or rather, determines how many shares you will receive. This loan will make 8% interest which accrues to your investment and increases the number of shares issued upon conversion. The conversion period is a maximum of 3 years, but can happen faster if the Board of Directors votes to do it or the company merges with or is acquired by another company.
Valuation is the analytical process of determining the worth of a company. It's also what determines how much of the company you own when you invest. If you invest $1000 and a company is worth $1M, you own .1%. If you invest $1000 and the company is worth $10M, you own .01%. A lower valuation therefore means you'll own more shares comparatively at the same investment amount. The value of shares can grow over time as a company grows. 
The valuation cap and discount in this deal protects our early investors (those investing now!) in the event their investment allows us to skyrocket and raise an equity round in the future at an extremely high valuation. Investors want the cap to be as low as possible so that their investment converts to as much equity in the future as possible.
People choose to invest for two main reasons: 1) they love Cusa and want to be a part of our story, and 2) they'd like a return on their investment. So how might that happen? An exit event can occur. In our industry, the most common exit event is an acquisition. For example, Liquid IV (who make instant electrolyte beverages) was acquired by Unilever in 2020 for $400M, Blue Bottle Coffee was bought by Nestle for $425M in 2017, and Dutch company Jacobs Douwe Egberts paid 900M EUR to acquire Super Group, a instant tea and coffee manufacturer from Singapore, in 2016. Of course we can't predict the future and guarantee this will happen to Cusa, but these are examples of acquisitions in our space.
ASK CEO & FOUNDER, JIM
Typically, Direct-To-Consumer (DTC) businesses such as Cusa are valued at 3-6x annual revenue. Similar businesses have even raised crowdfunding rounds at highly inflated valuations of 10x or 11x revenue. Due to overall market conditions, we have chosen to be on the lower side of that range and set an extremely attractive and defensible valuation at 3.2x revenue. You can learn more about the valuation and investment terms at wefunder.com/cusa.
We are growing really quickly – we've achieved 576%+ overall direct to consumer (DTC) growth in the last two years, and 251% annual growth in subscriptions. And our sales are accelerating - our June DTC sales were up over 200% over last year and July's sales are looking to be even higher. We're also getting better and better at spreading the Cusa love: a lot of brands in our space are seeing customer acquisition costs increasing rapidly, but not us. We've actually seen it go down since the beginning of the year, which just helps us acquire new customers faster and grow our fan base, which is already  80,000 strong. At this incredible pace, we are on track to more than 10X the business in 5 years. 
(Forward looking projections cannot be guaranteed).
We will primarily invest in marketing, inventory, and new product development, all of which strengthen our brand, revenue, and allow us to deliver greater value to our growing community of loyal customers. Our existing marketing channels are performing extremely well, with a $10 cost of acquisition and an average order value of $55. This makes each new customer profitable with their first order. Our average customer goes on to order 5.2x per year. So adding more resources to marketing will only help the brand grow faster.
The bottom line is that we wouldn't be here without our amazing customers. They have supported us through thick and thin because they believe in the mission, vision, and products that we make. As Cusa grows and more people discover the amazing convenience and taste of our products, our business will invariably become more valuable – and we want our customers to enjoy the benefits of what they helped create. We think it's a much better model than making more Wall Street stock brokers rich. We also love the fact that investors will feel even more connected and hopefully help spread the product even faster, leading to accelerated growth and a win-win-win for all.